Email Laura@BodysexCleveland.com to register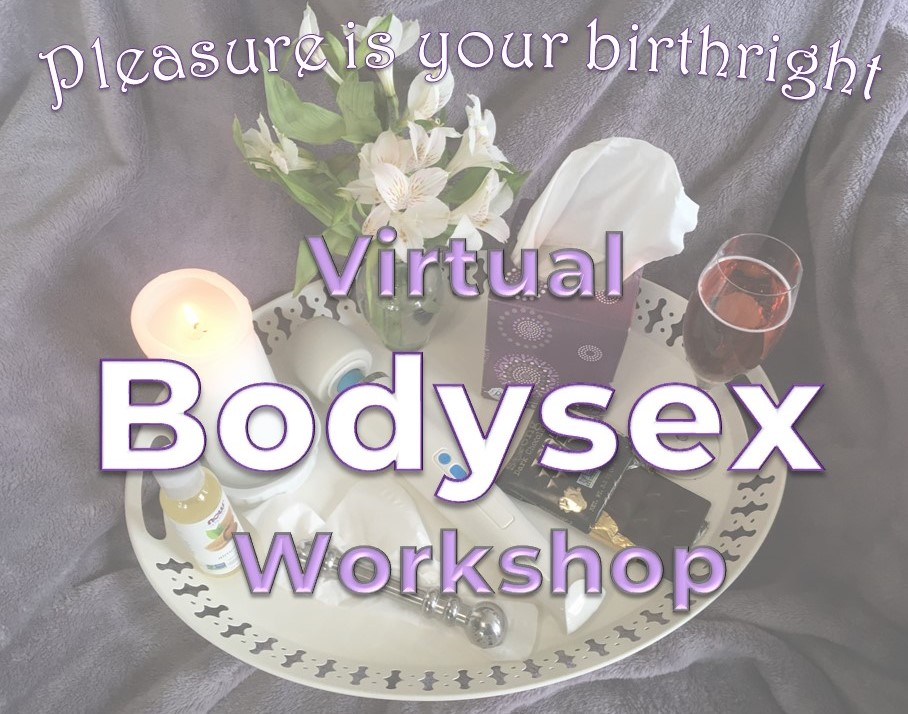 You can now experience a
 Bodysex Workshop
in your own home
via Zoom with your computer, tablet, or phone
A Bodysex Workshop is a circle in sisterhood
where we learn from each other
while healing shame and celebrating pleasure.
This experience positively changes
how you feel about your body and your orgasm.


A Bodysex Workshop is transformative!
Virtual Bodysex doesn't require nudity.
Email Laura@BodysexCleveland.com to register
"The culture conditions us to hate our bodies,
and touching ourselves is a no-no.
Pleasure isn't a priority or even an expectation.
A few hours in the Bodysex circle and all that changes."
– Dr. Betty Dodson, creator of Bodysex
 Are you ready to learn more about your pleasure anatomy?
Are you ready to experiment with new masturbation techniques
to bring yourself greater sexual pleasure?
Are you ready to appreciate and love your body more?
Are you ready to explore yourself as a sexual being?
If you answered "yes" to any of these questions,
the Virtual Bodysex Workshop is for you!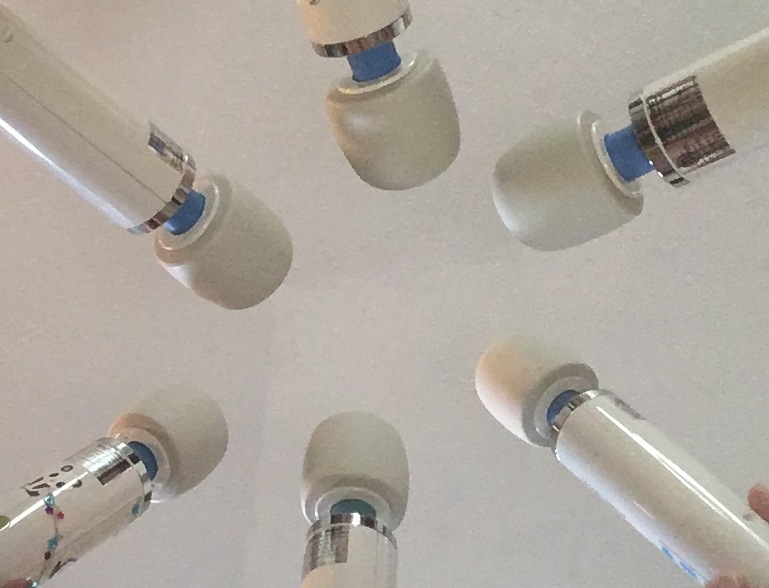 Join Laura for a Virtual Bodysex Workshop!
Session One:  Introductions and Setting the Stage for Pleasure
Explore your fantasies and what turns you on – music, erotica, sensual bath . . . ?
Session Two:  Vulva Diversity, Pleasure Anatomy, and Genital Show and Tell
Homework: Look at your vulva in a mirror and describe what you see.
Session Three: Breath, Touch, Penetration, and Vulva Massage
Explore what kind of touch feels good, remember to breath, and use those PC muscles
Session Four: Masturbation Techniques and Self-Pleasure
Explore different ways to masturbate and discover what you like best
Session Five: Final Share, Questions, and Erotic Recess Option
After you've completed the workshop, you'll be invited to attend Laura's online Erotic Recess with other Bodysex women and leaders.
Course duration: 5 weekly 90 minute sessions + two 30-minute private session w/ Laura
Additional commitment: Self-exploration activities with guidance and journal writing
Tuition: $400   Your $200 deposit reserves your place.
I passionately believe in equity of opportunity and do everything I can to make working with me financially accessible. I offer payment plans, sliding scale rates, and partial scholarships. If you feel drawn to working with me but do not feel financially able to do so, please contact me: Laura@BodysexCleveland.com
Register now for the next Virtual Bodysex Workshop with Laura!
Every Thursday starting January 20, 2022
7:30 p.m. Eastern Standard Time
and meeting weekly on Thursdays with the last session on February 17th
Only 6 seats available!
Tuition: $400
$200 deposit reserves your place
Email Laura@BodysexCleveland.com to reserve your place!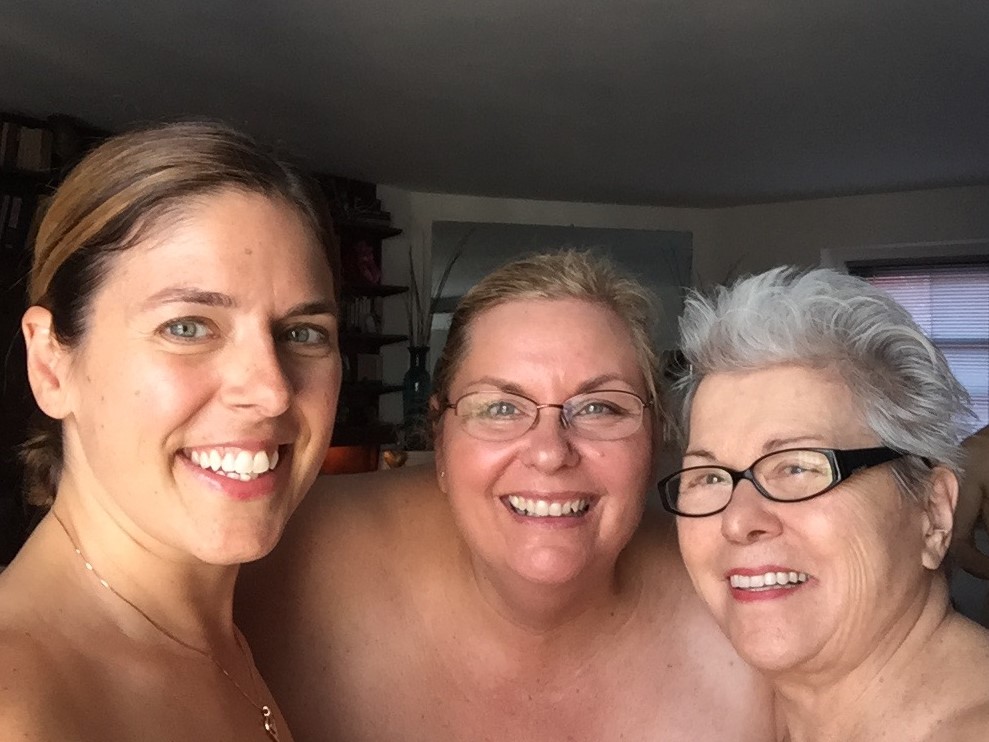 About your facilitator, Laura Bogush
That's me in the middle, between the iconic Betty Dodson (R) and the amazing Carlin Ross (L).  My passion for sex education was ignited after taking my first workshop with Betty and Carlin in 2016 and now I'm certified as a Bodysex facilitator. It's my goal to create a warm, accepting, and supportive space for self-exploration. I've facilitated many Bodysex circles, as well as sexuality classes  in Ohio and across the U.S. I have over thirty-five years experience in the field of education, as a  teacher and college professor.
About Dr. Betty Dodson, creator of Bodysex
Betty was an artist, feminist, and legendary sex educator. Her Bodysex Workshops developed in the 1970's when Betty realized that women at the sex parties that she hosted were not orgasming.
About Carlin Ross, "keeper of all things Betty Dodson" and creator of Virtual Bodysex
Carlin advanced Betty's work by taking it online. She created Virtual Bodysex in March, 2020 at the beginning of the global pandemic. "I wasn't sure if it would work in the beginning, but it does.  That's the power of Bodysex and the brilliance of what Betty put together," Carlin says.  I had Carlin's guidance in developing my version of Virtual Bodysex and she gave me her enthusiastic support!
Do I have to take my clothes off for Virtual Bodysex?  Do I have to show my genitals or masturbate with others?
No no, and no! This Virtual Bodysex Workshop does not expect you to be nude, show your genitals, or masturbate online with the group. For instructional purposes, there will be photos, videos, and demonstrations that include nudity, genitals, and masturbation. Participants who have competed Virtual Bodysex are invited to attend a free online Erotic Recess experience, but it is not part of this workshop and attendance is not expected or required.
How often will we meet?  How long is each session?
We will meet weekly for five weeks. Each session will last about 75-90 minutes
What do I need for this course?
You'll need a computer, tablet or phone with an internet connection in a private, comfortable place. Bring a notebook and a pen to take notes.  Please wear your soft, comfy clothes and bring a warm mug of your favorite tea or a glass of wine.
For exploration between our sessions, you'll need a mirror, a good light, and some lubricant. A vibrator and a dildo are also recommended. You don't have to purchase anything new or buy the equipment that's usually used in a Bodysex Workshop. In the first session, Laura will discuss what is needed in detail and recommend some items for purchase, if you want to try something new.
How will we meet?
We will meet via Zoom, an online conferencing platform. You'll receive a link to join the meeting. Shortly before the meeting start time, click the link and you'll be directed to a waiting room. When the class starts, Laura will let you in to our online meeting room. You'll see yourself as well as others in the class.
What do I need to do between classes?
After each session, you'll receive a link to a web page that includes audio and/or video prompts for exploration activities. Keep your notebook and pen handy to record your discoveries and write about how you feel. Plan to spend at least an hour or two during the week for the self-exploration activities and writing. The more time you put in, the more you will get out of this journey. 
What happens during the 30 minute private sessions with Laura? When will that be scheduled?
That's completely up to you! Laura can talk to you in greater depth about your personal concerns, provide private coaching, or just chat! For example, a participant may want Laura to be with her via Zoom during Genital Show and Tell or may want individual coaching while self-pleasuring to achieve orgasm. This session will be scheduled when you need it, anytime between the first and and up to one week after the last workshop session. Every week, Laura will have time slots available for individual sessions. If you'd like more than two private session during the course, the cost is an additional $50 per 30-minute session.
Is this class like group therapy?
No. This course specifically provides education only, although some may consider their personal experience to be therapeutic. Laura is a sex educator trained by Dr. Betty Dodson and Carlin Ross to guide you on your personal journey with Bodysex. Sex education is not psychotherapy and Laura is not a therapist. Please consult with a mental health professional or psychotherapist if you need those services.
Who may take this class?
This class is for any adult woman and/or vulva-haver, age 18 or over. All sexual orientations and identities of any race, ethnicity, religious background, or size are welcome.
How many will be in this class?
I keep the groups small with up to 6 participants.
What if I need to miss a session?
It's important for you to participate in every session, if possible. However, things do happen! If you are unable to attend, please notify Laura prior to the start time. I'll do my best to help you catch up with whatever you missed.
How do I register?
Please email Laura@BodysexCleveland.com for registration link and payment information. Payment is accepted via PayPal, Venmo, or check.  Your $200 deposit confirms your registration.
What if I have more questions?
Contact Laura at Laura@BodysexCleveland.com