Bodysex Workshop with Laura
in-person near Cleveland, OH
November 11 & 12, 2023
1:00 pm to 6:00 pm each day
 Tuition: $675
includes everything needed
plus a Magic Wand to take home

6 places left
$200 deposit reserves your spot
Questions? Contact Laura: BodysexCLE@gmail.com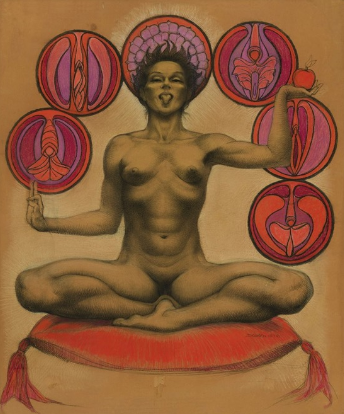 Art by Betty Dodson  ©BADFoundation
What is Bodysex?
Bodysex® is a practice designed by Betty Dodson PhD that supports women to connect to their bodies and orgasm to heal shame, enhance pleasure, and encourage selflove. Once we understand basic sexual anatomy, find the parts that bring us to orgasm, and claim our bodies for our own pleasure, we know our true sexual selves. Women have the most sophisticated sex organ on the planet, capable of endless pleasure. There is no failure. The clitoris is evergreen – it never ages – we can have orgasms until the end of life. It's never too late to begin.
"The culture conditions us to hate our bodies,
and touching ourselves is a no-no.
Pleasure isn't a priority or even an expectation.
A few hours in the Bodysex circle and all of that changes."
-Dr. Betty Dodson® , creator of Bodysex® 
What Happens in a Bodysex Circle?
Day One:
You'll be greeted at the door and invited to take your clothing off before taking a place in the circle.
The circle will begin with some breathing to calm and relax us.
After introductions, each will answer the questions: How do you feel about your body?  How do you feel about your orgasm?
Next comes Genital Show and Tell: This activity is a bonding moment. Each of us in the circle explores their vulva in the mirror with support from the group.
We will look at Betty's vulva sketches, anatomyl drawings, and the internal clitoral structure.
Then it's time for some guided vulva massage and pleasure exploration with our own fingers.
The day will end with a final sharing in the circle.
Day Two:
You'll leave your clothing outside the room and take your place in the circle.
We'll begin the circle with deep breathing exercises followed by an opening share.
We'll get on our feet and loosen up movement in our bodies with some dancing.
Next comes a demonstration of Betty's Rock and Roll Orgasm technique and guided group practice. Then we'll practice the Pillow Fuck and Goddess Style techniques
Erotic Recess follows, giving time to experiment with any technique that feels good. Orgasm isn't the goal, but it may be experienced.
Group Massage is the final ritual, allowing each of us to receive compassionate, non-sexual touch.
The workshop closes with a final sharing in the circle.
Email Laura with your questions:
BodysexCLE@gmail.com
or schedule a Zoom chat with me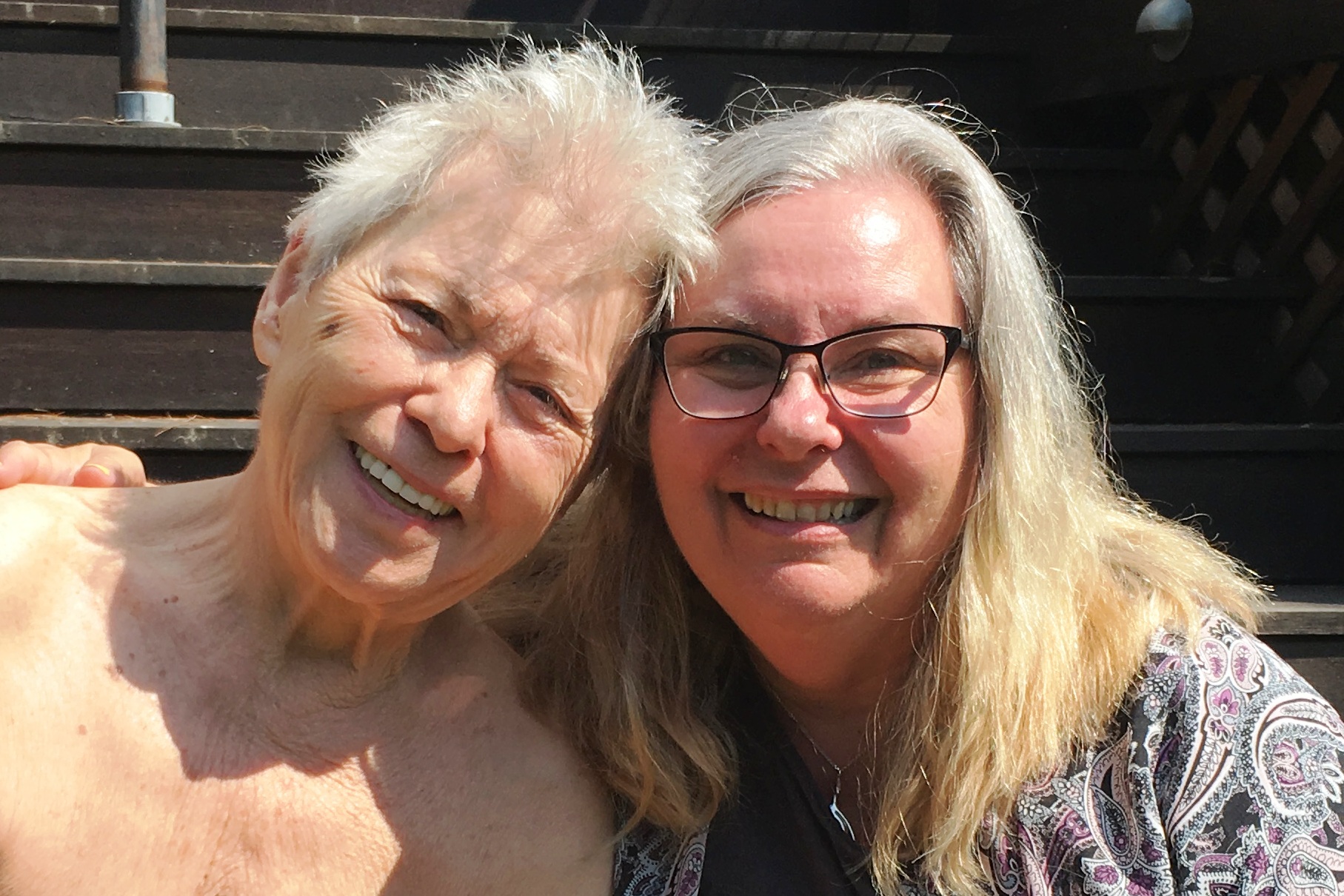 Betty and me at her 90th birthday retreat, 2019. 
Cancellations and Refunds:
Refund policy: If you cancel at any time after you register, your $200 initial deposit will not be refunded but can be transferred to another Bodysex Workshop hosted by Laura.
Payment in full is due 7 days prior to the first day of the workshop unless an alternative payment plan is arranged and confirmed in advance.
If the entire workshop is cancelled or postponed by Laura, you will receive a full refund.
Covid Policy:
Our goal is to take reasonable measures to help keep all of us healthy in our workshop.
If you experience Covid-19 symptoms, test positive, or have a family member or roommate test positive during the ten days prior to the start of our workshop, please stay home. Your workshop fees, including deposit, will be fully refunded.
You are encouraged to take a rapid home test each morning before you leave home to attend the workshop session. 
An air purifer will be running in the rooms where we will be together.
It is not required that you wear a mask, but please feel free to wear one if it makes you more comfortable.
Please be aware that social distancing is impossible during an in-person workshop. Getting exposed to Covid when in close contact with others is always a risk.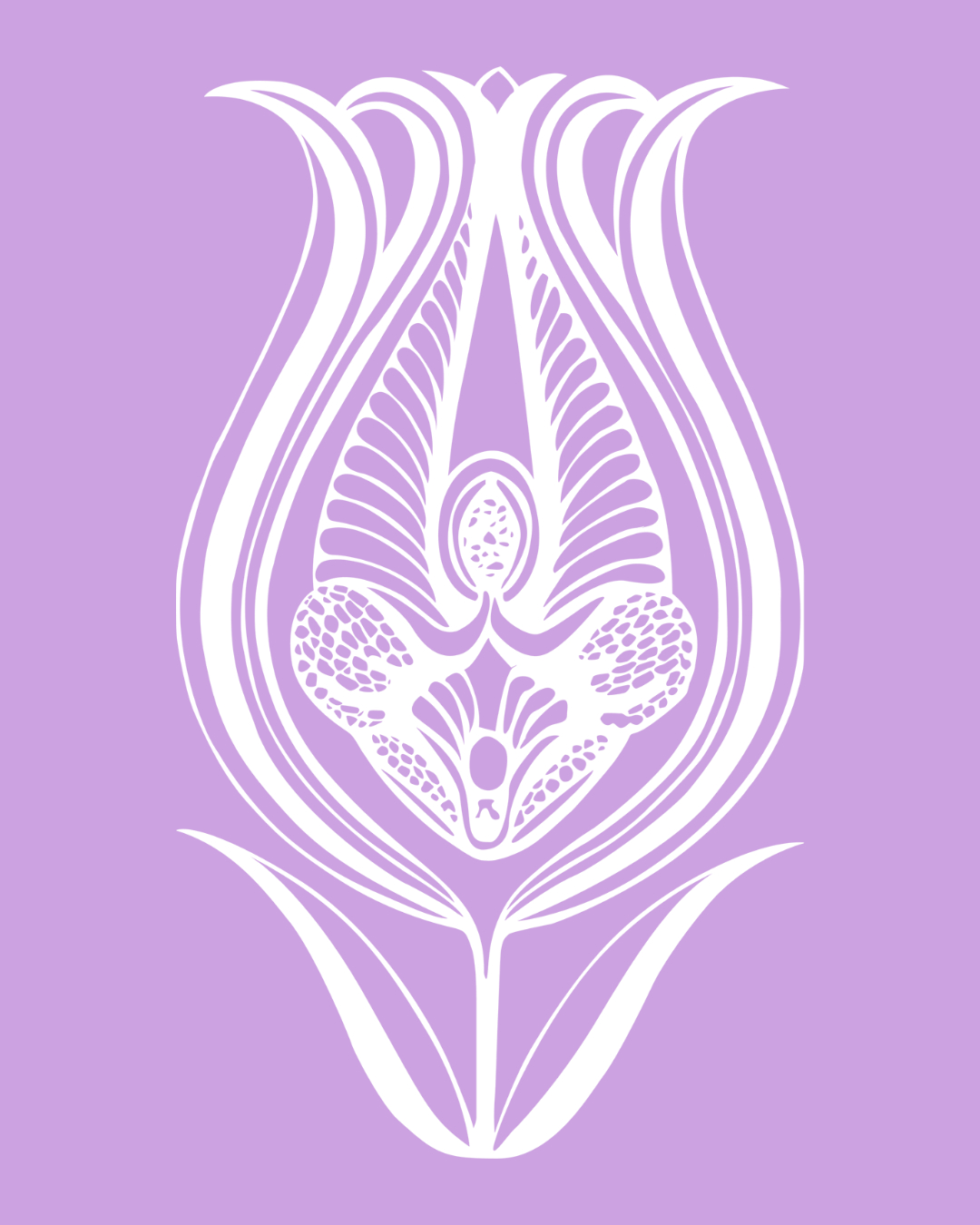 More Information
Nonsexual touch is a comforting part of the Bodysex sisterhood. Examples include but aren't limited to: holding hands in the circle, an arm around shoulders during genital show and tell,  touch during group massage, or a group hug at the end of the day. Any touch that is intended to produce a pleasure response will be done with your own hands. Your registration and attendance at a Bodysex workshop indicates that you consent to participate in nudity and nonsexual touch during a Bodysex workshop.  If you feel uncomfortable with being touched at any time, please speak up and withdraw your consent.
All women/vulva-owners of any age 18 or over, ethnicity, religion or sexual orientation are welcome. If you are pregnant, menstruating, or menopausal, please join us. As long as you have a vulva/vagina, Bodysex is for you.
Everything that you need for the workshop will be provided, including bottled water and snacks (including gluten-free and vegan). However, feel free to bring anything special that you might want, such as a preferred snack food or a favorite sex toy.  If you have your own Magic Wand and Betty's Barbell, feel free to bring them as well.  If you do not want the Magic Wand included in the workshop fee, please contact Laura for a  fee reduction.
Please put your cell phone on silent and keep it with your clothing outside of the workshop space.
Exact workshop location and address will be emailed to participants two weeks prior to the workshop date.
Coming from out of town and need a place to stay?
Here are three AirBnB's within a half mile from the workshop location:
Hosted by Kit            The home is across the street from me
Hosted by Randi   This home is about a half mile away
Gulf Cottage  This larger home is just over a half mile away and is lakefront.
Closest hotels:
Near lots of restaurant options
Holiday Inn – Mentor  
Super 8 by Wyndam – Mentor
For flights, Cleveland Hopkins International Airport is the largest airport, about 36 miles or 40 minutes from the workshop location.
A deposit of $200 or full payment is required with your registration to reserve your place in the workshop. Registrations are accepted up to one week before the start of the workshop if space is available. Payment is accepted via Paypal (credit cards may be used), check, or cash. You can bring your final payment with cash or check to the workshop if you wish.
If you register for a workshop but are unable to attend, your $200 deposit is nonrefundable but can be applied to a future workshop registration within two years following your registered workshop. Any remaining amount paid will be refunded, less PayPal fees, if cancellation is made prior to the start of the workshop.
If you have questions at any time, please email me at BodysexCLE@gmail.com  I'll reply as soon as possible.
Q's and A's
What do I need to bring?
Everything that you need for the workshop will be provided. We suggest that you bring a pair of socks, just in case your feet get cold. You are welcome to bring any special snacks that you'd like or sex toys/vibrators for Erotic Recess on the second day. We use almond oil as lubricant, so if you have another favorite, please bring it as well.
Why participate in a Bodysex Workshop?
Many women/vulva-owners have been raised to feel shameful about their genitals and sexual desires. Our physical self-worth and pleasure are controlled by social norms that deny our birthright to feeling good about our bodies, having satisfying orgasms, and owning our sexuality. Bodysex is designed to heal shame, enhance self-esteem, and enrich our orgasms.
Why are workshops done in the nude?
A negative body image is very common among women in our society. We don't see a range of real body types in television, movies and media. Nudity in the Bodysex circle allows us to see a range of normal bodies. When we are able to spend time in our bodies without clothing, we literally become more comfortable in our own skin. Your registration and attendance at a Bodysex Workshop indicates that you consent to participate in the nude.
Who may attend Bodysex Workshops?
All women/vulva-owners of any age 18 or over, ethnicity, religion or sexual orientation are welcome. If you are pregnant, menstruating, or menopausal, please join us. As long as you have a vulva/vagina, Bodysex is for you.
What if I have my period?
No problem. You can use a tampon, menstrual cup, or a piece of natural sea sponge during Genital Show & Tell and Erotic Recess. Some women even choose to free bleed onto a towel. Bleeding is a natural part of being a woman and there is no shame in it.
What if I have a yeast, bladder, or other infection?
No problem. You are welcome to participate. Just use some over-the-counter or other treatment before attending. Every participant has their own supplies and equipment so you will not be sharing.
What if I can't orgasm?
If you orgasm, great. If you don't, that's ok too. Orgasm is NOT the goal. We're here to heal body shame, overcome sexual guilt and experience true sisterhood. There's no agenda and no expectations.
Do I have to use penetration?
No. Penetration is always your choice and should always feel good. If you experience painful pentration and want to work through it, contact Laura for a Zoom session before or after the workshop.
Can I take pictures? Will I be photographed?
No. Pictures won't be taken and are not permitted during the workshop, including selfies.
Other Questions?
Email Laura: BodysexCLE@gmail.com